Housing and Bedding
I only house my rats in
Martins Cages
, they are spacious and easy to clean. I currently have two R-690s for adult females, one R-680 for adult males, and three R-660s for mating/maternity cages. I keep upto 6 adult females and 4 adult males per R-690 and 3 adult males fit nicely in my one R-680. I also have a HEPA filter which helps to cut down on the dust which aggravates my allergies.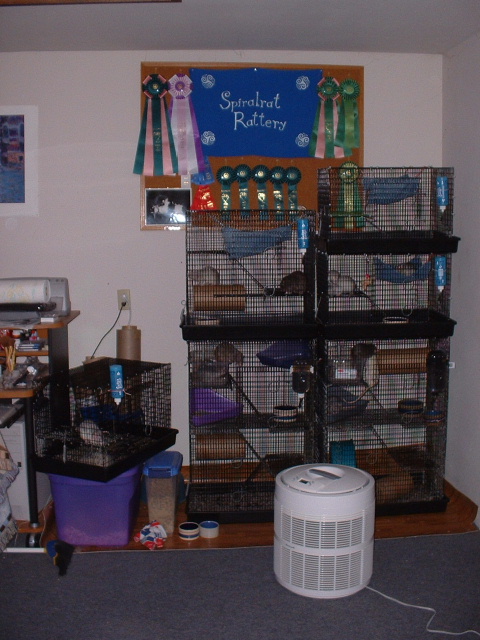 For shows and traveling I have plastic sterilite containers, which I have modified with hardware cloth for ventilation.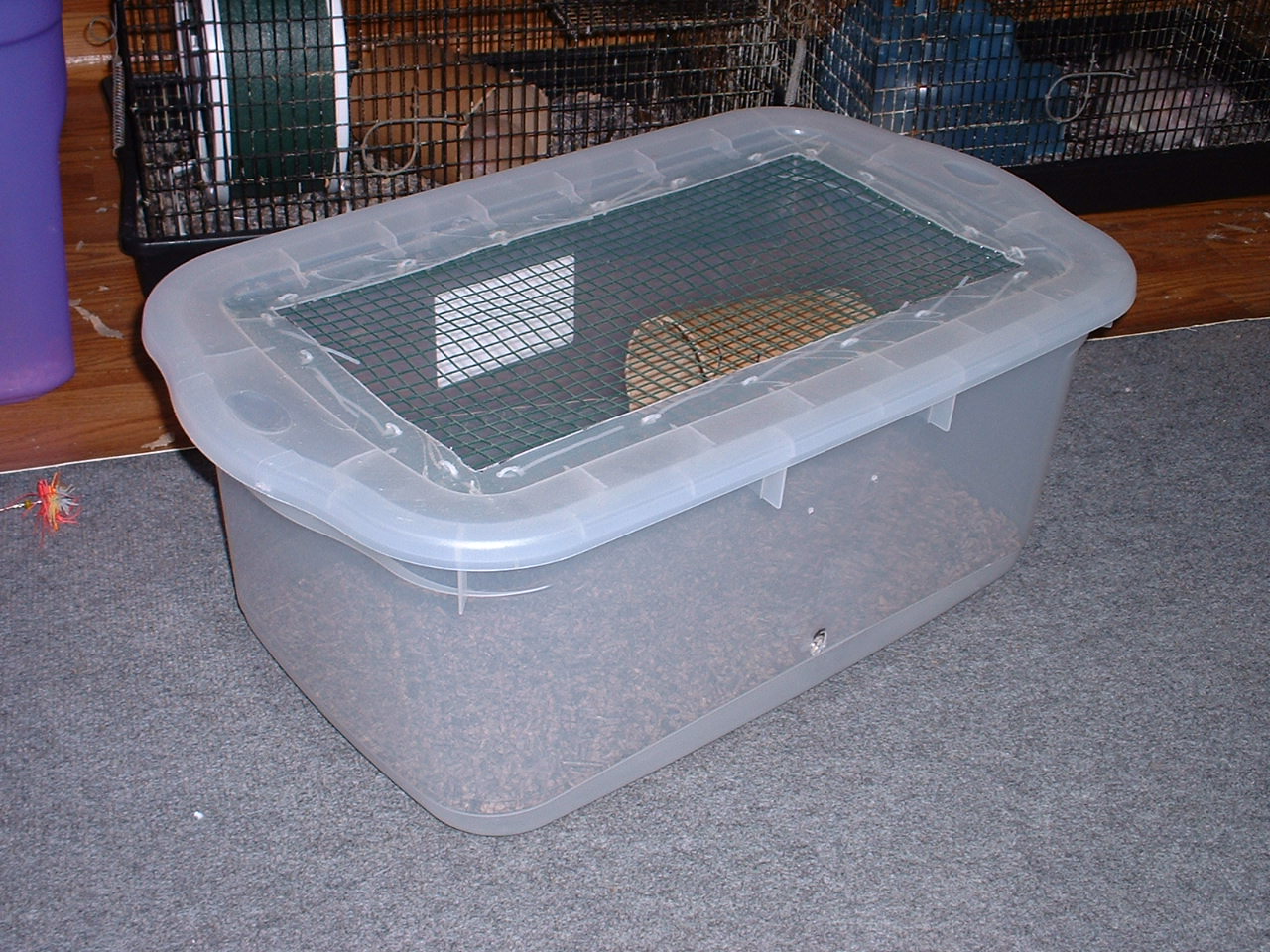 My bedding of choice is Yesterday's News pelleted paper cat litter. It is relatively inexpensive for the number of cages I have, and has excellent moisture and odor absorbing properties. For pinkies and younger rats I will use shaved Aspen bedding, as it has a softer texture.
Cage furniture and enrichment items that I use include: plastic shoeboxes as nest boxes; corner Hi-Back litter trays as litterboxes or hang-out spots; heavy-duty cardboard shipping tubes cut down and wired to the sides of the cages; solid plastic SuperPet wheels in the active females' cages; and old jean legs hung up as hammocks for my sedentary boys. My girls can shred a hammock in about a day and my boys are too lazy to use a wheel, so I don't bother providing them with them.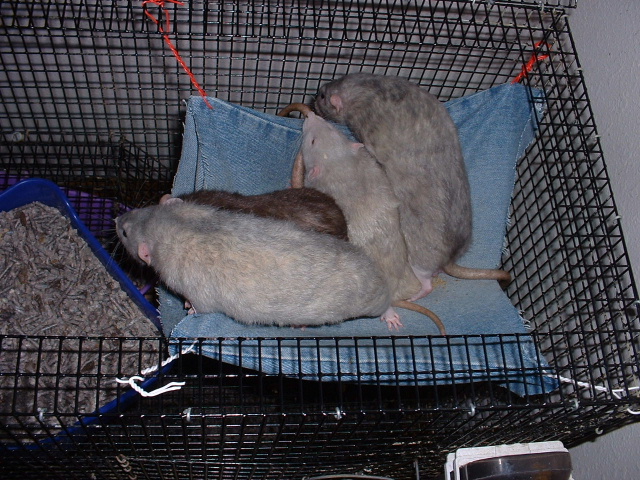 I'm a stickler for sanitation, so I like to use items in my cages that can be easily washed and bleached or are cheap enough that I can just toss them. Consequently I only use plastic items. The cardboard shipping tubes I get free from work and the jeans I buy at thrift stores, so it's not a big cost to toss them when they get dirty.

Health Care and Veterinary Attention
Every time I clean cages I give my rats a mini health exam. I'll feel for any lumps or bumps, check the fur and skin for scratches or signs of lice, examine eyes and nose for any signs of discharge, listen to their lungs and breathing, and check their overall fleshiness for proper body weight. I also keep a first aid kit handy. Some items I include are: Panalog or Bacitracin for skin wounds, Terramycin for the eyes, Hibiclens to clean scratches and sanitize my own hands, a selection of small syringes to flush wounds and dispense meds, Advantage for lice outbreaks, and antibiotics...I'm fortunate that my vet will usually give me extras when I bring one of my crew in.
For veterinary attention the fine doctors at Alder Trail Animal Hospital in Bremerton Washington provide my crew with excellent care. Dr's Yiek and Neuman are very knowledgable about rodents. They are located in East Bremerton Washington, and can be contacted at (360) 377-3971.